Gloria captured our engagement beautifully with photographs we will cherish forever. She was very helpful beforehand in ensuring that all of the details were planned out carefully, which was much appreciated given that this was a once in a lifetime event!
For the photography itself, her approach was to allow us to relax and be natural, whilst she focused on capturing the moments without being intrusive. This was just what I was looking for, as it allowed us to really enjoy the experience without having to think about posing or feeling uncomfortable. Would definitely recommend to anyone else looking for a photographer to capture special moments!
- Adam
"Gloria is very down-to-earth and professional. She captured our prewedding shoots while we were in Seoul. We found her by chance and fall in love with her style - journalistic that focus on people interaction and beautiful moments! Before the shoot, she kept close contact with us from what to prepare, what to expect till actual day. She also gave perfect suggestions on where we can have the photoshoot (because we ask for Sakura!) and who are the good MUA we can engage with. I couldn't be more grateful to have found her. The photos are delivered within a month and I have to say they are amazingly well done!! Exactly what we are asking for and beyond. A really professional photographer to look for if you happen to be in Seoul or Singapore!"
- Camille & Nic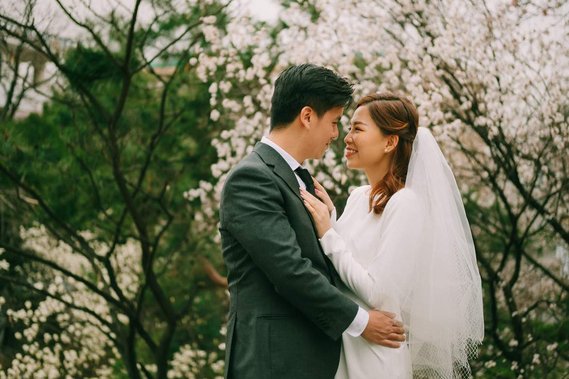 "Gloria is such a great photographer I have ever seen. She is very experienced in photo shooting and planning. We are very grateful for your help to this proposal. I would recommend Gloria to anyone who's wanting a photographer for a special event like us."
- Golf & Gift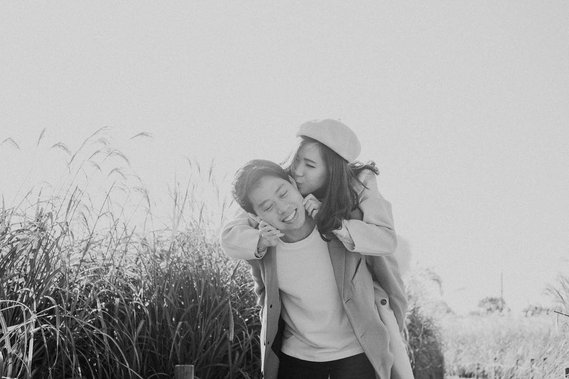 "Gloria is a fantastic photographer!
I cannot recommend her enough. My photoshoot with her was a wonderful experience and the photos are amazing."

- Arnab
"... All the photos are so natural! we love it much!
X praised your skill also.
You did an excellent job!"
- ST
"Photos came out wonderful! Rabbit Walker is able to handle complex arrangements with ease! As me and my wife are situated overseas, we communicated and coordinated with Gloria via online for our small wedding ceremony back home.
Thank you for capturing our joyous moments :) appreciate every details you put into the photos!"
- Kevin
Gloria helped us a lot to be comfortable all the time during the
photo session. We recommend her for who wants to capture the
natural moment in a photo, especially for couples.
Thank you Gloria :))
- Javier & Sofia
She was on time, and knows the place very
well. Communicating with her was easy and
her way of capturing the moment is unique.
I liked the results and the shooting session
with her.
- Sarah
Our family did a staycation photoshoot with Gloria and she did an amazing job to capture the lovely, funny and subtle expressions of us doing the normal activities. 2020 is a special year - we cannot go abroad for holidays but the precious moments of family bonding will stay with us. We enjoyed the photoshooting session as much as the reviewing. Thank you very much Gloria, all the best in your photography journey!
- Rebecca
My family and I did a 100 days photoshoot for our baby and we were really satisfied with how the photos turned out! Gloria is an experienced photographer who captures great moments really well.

- Ming Yan
Gloria knows how to capture real you! We shared lots information before
the photo shoot and it really helped for both, Gloria and myself. I highly
recommend her if you want to take best pic of your life!
I love all the photos!!!
- Yeongmi
Derrick and Gloria did an amazing job with my family photos! They were so sweet and friendly, explaining the concept to us beforehand and chatting with us during the shoot. We felt at ease and it produced many natural, candid photos. The photos turned out bright and sharp and I can't wait to print them to hang in our home. Thank you once again!
- Jielin
"Thank you for being our photographer today. It was easy and fun to be with you."

"The pictures are beautiful, Gloria! Thank you!"
- Imelda
Gloria was the photographer for our baby girl's first photoshoot and we were really pleased
with not just the final set of photographs, but also on her professionalism and patience with us throughout the shoot (very important when handling kids!)


And like some of the other reviews here, I really must commend how comfortable she made us feel and never once did I feel like we had to worry about how we should pose so that the

photos would come out nice. We were able to just continue what we were doing and Gloria somehow had a way of capturing us at very flattering angles.

Highly recommended!
- K N
"My wife and I had a great experience with Gloria who did our photo shoot to celebrate our 15th wedding anniversary vacation in Singapore. She contacted us in advance and gave us a good idea on what to expect on how the session would go as well as suggestions on location. She took the time to get to know us and understand what we like. She made our session go smoothly in a relaxed and fun atmosphere. We had a great time during our session. The photos came out absolutely beautiful. Gloria is highly recommended!"

- Jon & Tricia
Sounds like the way you'd like to capture your memories?
당신이찾고 바라던 편안하고 즐거운 촬영이
될 것 같나요?